I – father, husband, homie; cyclist, teacher, writer –
know full well that it could all come to a thrashing end at any moment. In fact, if at all like a cat, I have 3, maybe 4 lives left since surviving a series of wicked bicycle crashes, a heart ablation, and the generalized malaise of the 1990s. Then again, that's what makes art great.
Taller than a cedar hedge, stronger than an average German Shepherd, Titus – you can call me that – can be found in classrooms spouting poetry and truth when not cleaning house, hanging with the fam, or riding bikes with the Mad Genius Cycling Squad.
Born in the great St. John River Valley, I am at home with nature – under or climbing trees, splashing through streams and puddles, getting lost, finding back roads and staying weird as can be.
I love coffee. Don't drink or smoke. Eat well, go to bed early, and, chances are, think you're a fairly cool and interesting person.
–Andrew
---
Experience
Current Position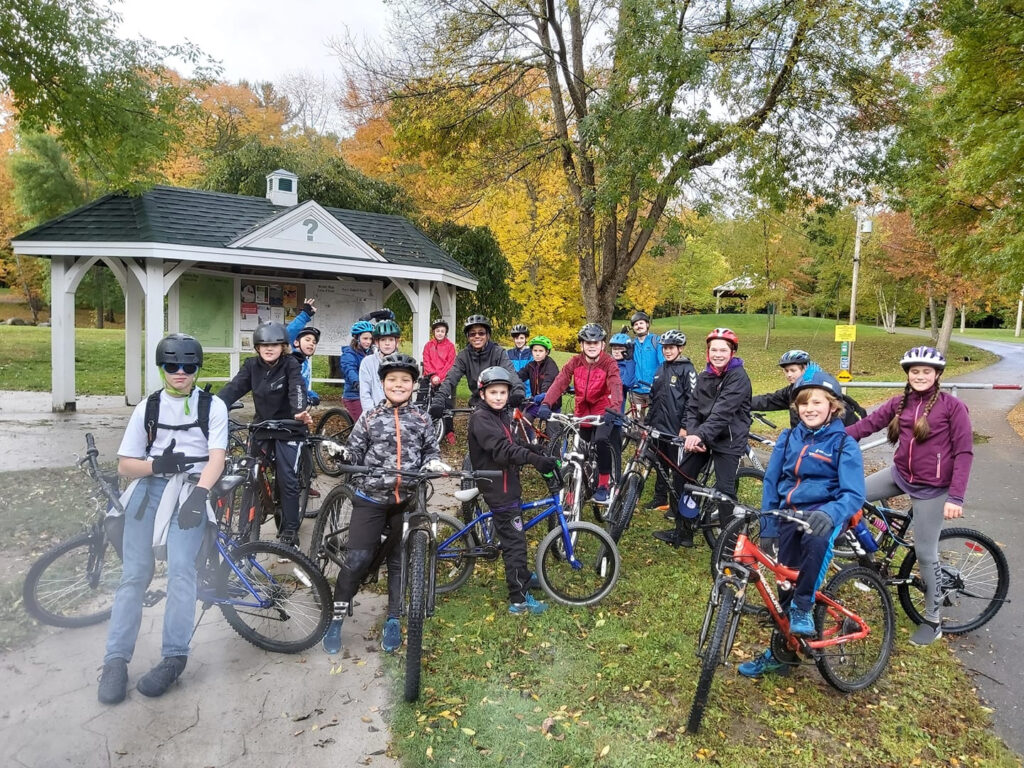 LA, Social Studies and Science Teacher, Grade 8, George Street Middle School, 09.2020 – Present
I am a spoken word poet, long distance runner and cyclist, hiker, published author, father, and student of philosophy. Over the years I have taught at St. Thomas University and the University of New Brunswick, been Artist-in-Reidence at numerous middle and high schools throughout New Brunswick, participated in the Writers-in-Schools program at over 20 schools, helped rebuild the Provincial Oratory Competition, given motivational and keynote addresses, run my own landscaping company, and won two teaching awards and three writing awards.
​I see life as an adventure in learning and community building, and I know of no profession that does that with as much clear intent, nobility and flair as teaching.
Past Postions
Cultural Enrichment Coordinator, Kingsclear First Nation Program, George Street Middle School, 09.2019 – 06.2020
Music Teacher, New Maryland Elementary School, 09.2019-06.2020
Adjunct Professor, Department of English Language and Literature, St. Thomas University, 09.2005 – 12.2018
Instructor, Faculty of Arts, University of New Brunswick, 09.2008 – 04.2017
First Year Arts Adviser, University of New Brunswick, 05.2013 – 09.2015
Artist-in-Residence, Leo Hayes High School (2016-2017), Bliss Carman Middle School (2012 – 2014) & George Street Middle School (2011 – 2012 & 2014 – 2015)
Instructor, Learning for Success Program, St. Thomas University, 09.2010 – 04.2011
Education
Bachelors Degree in Education, 2018, St. Thomas University, Fredericton, NB
Masters Degree in English Literature/Creative Writing, 1994, St. Thomas University, Fredericton, NB
Bachelors Degree in Philosophy, First Class Honours, 2001, University of New Brunswick, Fredericton, NB
Awards
Award for Best of iRunFar in 2016, "Is impossible nothing?"
Award for Best of iRunFar in 2015, "Twenty words for freezing"
Award for Best of iRunFar in 2014, "All too Human Powers"
Award for Best of iRunFar in 2013, "Matterhorn of the Gods"
Teaching Excellence Award for Part-Time Faculty 2009, St. Thomas University
2009 Dr. Sheila Andrew Award for Excellence in Teaching, St. Thomas University
2007 – 2009 recipient of UNB Magee Third Century Postgraduate Award
Artist-in-Residence Leo Hayes High School, January 2017 – April 2017
Artist-in-Residence, Bliss Carman Middle School, September 2012 – June 2013
Artist-in-Residence George Street Middle School, September 2011 – June 2012
Public Speaking
Invited Keynote Speaker, Arrow Construction AGM, January 12, 2017
Invited Keynote Speaker, ASD Middle level Council Day 2012 – 2016
Spoken Word Poetry workshop, The Write Stuff, Saint John Art Centre, 2014 – 2016
Chair, 2013 NB Provincial Oratory Competition (VOX 2013) Committee
Writers-in-Schools program participant, Harvey High School, Bonar Law High School, George Street Middle School, Kennebecasis High School, Moncton High School, Miramichi Valley, and Nackawic Middle School
Invited Keynote Speaker, District 14 Professional Development day, August 28, 2012
Invited Keynote Speaker, Leo Hayes High School Professional Development day, August
28, 2012
Invited Keynote Speaker, UNB Graduating BEd class of 2012, May 23, 2012
Invited judge for Middle level provincial oratory competition, May 22, 2012
Member of SPEAK OUT! Provincial Oratory Competition Committee
Invited Keynote Speaker, District 14 School Board AGM, May 7, 2012
Invited keynote speaker, Leo Hayes High School Professional Development day, September 2, 2011
Publications
"Is impossible nothing?" www.irunfar.com, March 9, 2016
"This is just to say/For the love of a Koan" www.irunfar.com, December 29, 2015
"Skinned knees & Black Eyes" Bicycle Times, Issue 036, August 2015
"Learning coping for the kid" www.irunfar.com, July 25, 2015
"Twenty words for freezing" www.irunfar.com, March 16, 2015
"Tuck in" Trail Running Canada, Issue 12, 2015
"Spill over" Trail Running Canada, Issue 11, 2015
"Ride like a kid" Bicycle Times, Issue 031, October 2014
"Soy un perdedor, or NOT" www.irunfar.com, July 25, 2014
"Testify the wilderness" www.irunfar.com, April 29, 2014
"All too Human Powers" www.irunfar.com, January 23, 2014
"Watching Matt's Feet" www.irunfar.com, November 19, 2013
"Matterhorn of the Gods" www.irunfar.com, September 10, 2013
Achievements
1st place: impossible2possible 100k, Gatineau QC, 2015
9th place, 1st place age category: Vermont 100k, Brownsville VT, 2014
1st place: Wascally Wabbit 4 (68k), Tantalon NS, 2015
1st place: Wascally Wabbit 3 (50k), Tantalon NS, 2013
FKT Fundy Trail, Fundy National Park
4th place: Radical Edge Gravel Grind 125k Mountain Bike Race, Fredericton NB, 2015
4th place: Brookvale 50k, Brookvale PEI, 2016
4th place: Brookvale 50k, Brookvale PEI, 2015
4th place: Brookvale 50k, Brookvale PEI, 2013
Member of impossible2possible GOTeami2p
Previous Atlantic Canadian Ambassador for The North Face and Trail Running Canada